It is always satisfying taking a space which is tired and run down and turn it into an inspirational space for people to work in. We spend a lot of time doing office refurbishments in Manchester however we recently spent some time in Milton Keynes on a job which had results worth shouting about.
We created this sleek and minimalist kitchen using black for the busy kitchen to ensure it had longevity and then complimented its darkness with some bright seating.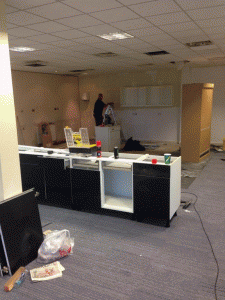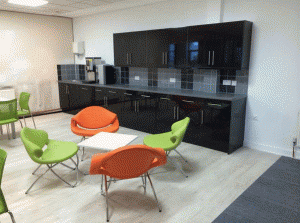 We install a lot of glass partitions on a regular basis and here is the latest: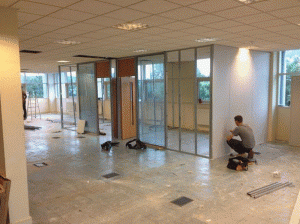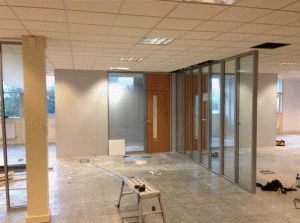 This large office refurbishment was a large space that had to be divided into working spaces including kitchen, meeting rooms and a general working area. The above glass partitions were the perfect choice to divide up the space to give privacy where required whilst still allowing light to flood throughout the office space. Some of our clients do choose to install soundproof glass partitions where privacy is key. There is also the choice to have fireproof partitions for offices that need that extra peace of mind.

Looking For An Office Refurbishment Company?

We provide office refurbishments in Manchester and surround areas. If you are looking for an office refurbishment then please feel free to call us for a no obligation chat on 01606 333 150 or fill out the form on the right hand side of this page and we will get back to you asap.