We were recently contacted by Aspect in Liverpool to give them some help with their office decoration.  They wanted a professional and sleek look whilst being more 'fun' with the colours and designs.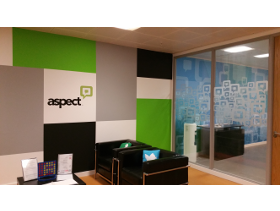 We painted the colourful block wall using their corporate company colours and placed the logo in the centre.  This was a feature wall in the reception and is the first thing that visitors see as they walk in, so this wall had to have an impact.
We also used digital imagery to create a wallcovering using the speech bubble from Aspect's logo.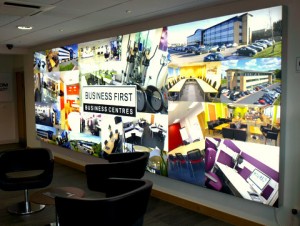 The digital imagery wallcovering is from Newmor Wallcoverings and is a fantastic way to use your own artwork.
We created a breakout area, with colourful walls and contemporary breakout furniture from Frovi Furniture.
In addition to this work we re-emulsioned some white walls, added kitchen flooring, storage cupboards and some glass manifestation.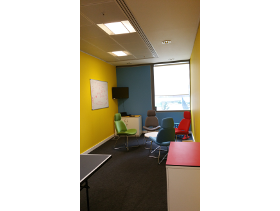 Need Office Refurbishment in Liverpool?
If you need help with your office refurbishment in Liverpool we can help!  No matter what your budget, we can help deliver to the brief that you require.  Feel free to get in touch for a no obligation chat by calling us on 01606 333 150 or by filling out the form on the right of this page.